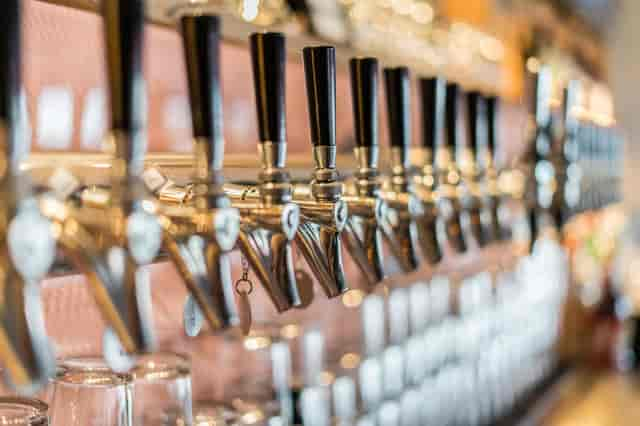 Bar menu
HANDCRAFTED COCKTAILS
COQUITO
Spanish for "Little Coconut", made with a mixture of Coconut Milk, Sweetened Condensed Milk, Spices and Bacardi Rum 10.
PEPPERMINT SNOW GLOBE
Peppermint Vodka, White Chocolate Liquor, Egg Nog, Vanilla Ice Cream, Garnished with Homemade Peppermint Bark 12.
SWEATER WEATHER
Mulled Cabernet wine, Brandy, Apple Cider, Fall Spices, Served Hot 11.
VANILLA CHAI MARTINI
Vanilla Vodka, Disaronno, House-made Vanilla Cinnamon Simple Syrup, Chilled Chai Tea 13.
PEAR-ADISE
Absolut Pear Vodka, House-Made Vanilla Cinnamon Simple Syrup, Champagne, Soda, Splash Cranberry Juice 11
(SPICY) VONARITA
Casamigos Anejo, Cointreau, Grilled Jalapeno, Fresh Squeezed Lime Juice, Pineapple Juice, Smoked Sea Salt Rim 14.
STRAWBERRY MARGARITA
Casamigos Blanco Tequila, Muddled Strawberries,
Freshly Squeezed Lime Juice, Cointreau, Sugar Rim 12.
DERBY STREET
Bulleit Bourbon, Averna, Fresh Squeezed Lemon Juice, Honey, Luxardo Cherry 14.
BRIGHT EYES MARTINI
Titos Vodka, Back Bay Cold Brew, Coffee Liquor, Lemon Zest 13.
BLEMONADE
Titos Vodka, Fresh Squeezed Lemon Juice, Blueberries, House-made Blueberry Simple Syrup 12.5.
ON TAP:
Reverend Nats Hard Cider - Viva La Pineapple | Cider | Portland, OR | 6% | 10oz | 7.50
Entitled Brewing - Betterment | New England IPA | Hingham, MA | 6.5% | 10oz | 7.50
Great Divide - S'Mores Yeti | Imperial Stout | Denver, CO | 9.5% | 10oz | 8.00
Stellwagen Brewing and Inclusion Records - Inclusion IPA | New England IPA | Marshfield/Norwell, MA | 6.5% | 10oz | 7.50
Widowmaker Brewing - Blue Comet | IPA | Braintree, MA | 7.1% | 10oz | 7.50
Entitled Brewing – Entitled IPA | IPA | Hingham, MA | 7.2% | 10oz | 7.00
Widowmaker Brewing - Blender Ender | Fruited Sour with Apricot, Peach and Passionfruit | Braintree, MA | 7% | 10oz | 8.00
Night Shift - Whirlpool | Session Pale Ale | Everett, MA | 4.5% | 160z | 8.00
Jacks Abby Brewing - Gingerbread Barrel-Aged Framinghammer | Baltic Porter | Framingham, MA | 12% | 10oz | 8.50
Sloop Brewing - Make It Nice | New England IPA | Hopewell Junction, NY | 6% | 10oz | 7.00
Mighty Squirrel Brewing – Velvet Moon | Mocha Stout | Waltham, MA | 7.0% | 16oz | 7.50
Harpoon Brewery | IPA | Boston, MA | 5.9% | 10oz | 6.00
Devils Purse - Handline Kolsch | German Style Kolsch | South Dennis, MA | 5% | 16oz | 7.50
WHITE WINE
Chardonnay | Hayes Valley | California | 7 Glass/ 28 Bottle
Chardonnay | Harken | California | 7 Glass/ 28 Bottle
Pinot Grigio | Morene Bianchi | Italy | 7.50 Glass/ 29 Bottle
Sauvignon Blanc | Giesen | New Zealand | 7 Glass/ 28 Bottle
Rose | Rose All Day | California | 8 Glass/32 Bottle
RED WINE
Pinot Noir | Alias | California | 8 Glass/ 32 Bottle
Pinot Noir | Underwood | Oregon | 9 Glass / 36 Bottle
Merlot | Raymond | California | 8 Glass/ 32 Bottle
Malbec | Alamos | Argentina | 7 Glass/ 28 Bottle
Cabernet Sauvignon | Backhouse | California | 7 Glass/ 28 Bottle
Cabernet Sauvignon | Hayes| California | 8 Glass/ 32 Bottle
BUBBLES & MORE
Prosecco | Candoni | Italy | 9
Champagne | Barefoot Bubbly | Brut Cuvee | California | 7
Mimosa | Traditional |8.50
Specialty Mimosas | Raspberry or Apple Cider | 9 (Substitute Prosecco 9)
BOTTLED & CANNED BEER
TRADITIONAL BEERS
Amstel Light, Budweiser, Bud Light, Coors Light, Corona, Corona Light, Heineken,
Michelob Ultra, Miller High Life, Narragansett, PBR Tall Boys & Clausthaler N/A
ALES
Cisco Whale's Tale Pale Ale | Nantucket, MA | 12 oz | 5.6% | 6
Switchback Ale | Burlington, VT | 12 oz | 6
Wachusett Blueberry | Westminster, MA | 12 oz | 4.5 % | 5.50
Boddingtons Pub Ale | England | 16 oz | 4.6 % | 6
PBR Hard Coffee | Neenah, WI | 11oz. | 5% | 7.50
Sierra Nevada Pale Ale | Chico, CA | 12 oz | 5.6% | 6
HARD SELTZER
High Noon Spiked Seltzer (Pineapple or Cherry) | Memphis, TN | 12 oz | 7
Night Shift Hoot Hard Seltzer ( Blood Orange-Mango, Black Cherry Lemon, Raspberry Lime, Pomegranate Tangerine) | Everett, MA | 12 oz | 6.50
IPA'S
Interboro Spirits & Ales DDH Premier IPA | Brookly, NY | 16oz. | 6.0% | 8.50
Aeronaut A Year With DR. Nandu | Somerville, MA | 16oz. | 6.3% | 8.00
Entitled Betterment New England IPA | Hingham, MA | 16oz | 6.5% | 8
Entitled IPA | Hingham, MA | 16oz | 7.2%
Entitled Therapy Session IPA | Hingham, MA | 16oz. | 4.5% | 8
Fiddlehead Second Fiddle DIPA | Shelburne, VT | 16oz. | 8.2% | 9.50
Lagunitas IPA | Petaluma, CA | 19.2oz | 6.2% | 8
LAGERS & PILSNERS
Anchor Steam Beer | San Francisco, CA | 12oz | 4.9% | 5
Peak Organic Happy Hour Pilsner | Portland, ME | 16oz | 4.7% | 7
Night Shift Nite Lite | Everett, MA | 16oz | 4.3% | 6.00
SAISONS, HEFEWEIZENS & WITBIERS
Brasserie Dupont Saison Dupont | Belgium | 12.7oz | 6.5% | 11.50
Julius Echter Weissbier Hell | Germany | 16.9oz | 5.3% | 10
Entitled Wit & Wisdom White Ale | Hingham, MA | 12oz | 5.2% | 5.50
Allagash White | Portland, ME | 16oz | 6.1% | 8.50
SOURS, WILDS & GOSE
Battery Steele Inbye Grisette | Portland, ME | 16oz. | 4.6 % | 8
Modern Times Fruitlands | San Diego, CA | 16oz | 4.8% | 7.50
CIDERS
Magners Hard Cider | Ireland | 20oz | 4.5% | 8.50
Far From The Tree The Bog | Salem, MA | 16oz | 6.8% | 8
Downeast Cider House Original | Boston, MA | 12oz | 5.1% | 5.75
Citizen Cider The AmeriCran | Burlington, VT | 12oz | 6.8% | 7.00
Belgian, Doubles, Tripels
Entitled Artie's Belgian Style Ale | Hingham, MA | 16oz | 10% | 10
Chimay Premiere | Belgium | 16oz | 7% | 11
Orkney Skull Splitter Scotch Ale | Scotland, UK | 11.2oz | 8.5% | 8
STOUTS & PORTERS
Guiness Draught | Ireland | 16oz. | 4.2% | 6.50
Exhibit "A" Briefcase Porter | Framingham, MA | 16oz | 5.4%
Mast Landing Gunner's Daughter (Peanut Butter Milk Stout) | Westbrook, ME |16oz | 9
GLUTEN-FREE
Glutenberg Red Ale | Canada | 16oz | 5% | 6.75
Green's Dry-Hopped Lager | Belgium |16.9oz | 4.1% 9.50
Stone Delicious IPA (Gluten Reduced) | Escondido, CA | 12oz | 6.50
Omission Lager | Portland, OR | 12oz| 4.6% | 6.50