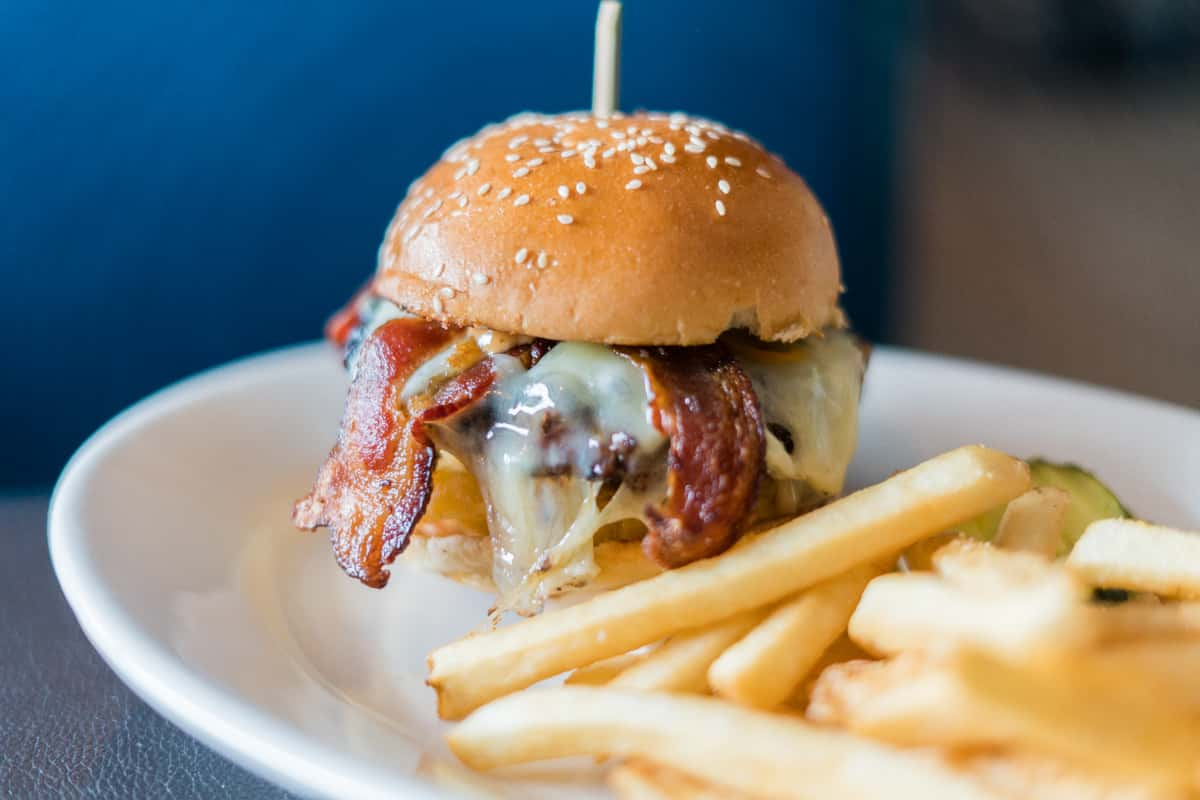 Lunch/Dinner Menu
Lunch Specials
Sunday, August 2nd
Caprese Grilled Cheese
On a Pressed Sub Roll, Melted Mozzarella, Basil Pesto, Sliced Tomato, Balsamic Glaze. Served with Sweet Potato Fries.
$12
Soup of The Day
Potato with Bacon & Cheddar
Cup | 4 Bowl | 7
APPETIZERS
BACON TATER TOTS
House-Made with Bacon & Cheddar
Spicy Ketchup, 10 per Order 10


SOFT BAKED BAR PRETZELS
Mustard Butter, Beer Cheese 9
CHICKEN WINGS OR FINGERS
Celery & Carrots
Buffalo – Blue Cheese
Plain – Honey Mustard
BBQ – Ranch 12


BUFFALO CHICKEN RANGOONS
Crispy Stuffed Wontons, Pepperjack,
Celery, Carrots, & Blue Cheese 14


STEAK & CHEESE SPRINGROLLS
Shaved Steak Filling with Peppers & Onions,
Three Cheese, Spicy Ketchup 13
CRISPY FRIED CALAMARI
Cherry Peppers, Herbs, Lemon Aioli 14
STEAMED MUSSELS
White Wine, Garlic, Dijon, Herbs, Roasted Tomatoes, Grilled Focaccia 15

CLAM CHOWDER
New England Classic
16 oz./8 or 8 oz./5

SALADS

MEDITERRANEAN
Chopped Romaine, Feta, Kalamata Olives, Red Onions, Grape Tomatoes,
Cucumbers, Chick Peas, Creamy Feta Dressing 15


PORTOFINO SALAD
Field Greens, Candied Walnuts, Gorgonzola,
Red Onion, Oranges, Balsamic Dressing 14


COBB SALAD
Iceberg, Romaine, Bacon, Grape Tomatoes,
Gorgonzola Cheese, Black Olives, Honey Mustard 14


CAESAR SALAD
Classic Salad with Romaine Hearts,
Croutons, Parmesan Dressing 14


SALAD EXTRAS –
Grilled Chicken 6
Boneless Fried Chicken 7
Grilled Shrimp 8
SANDWICHES
LOBSTER ROLL
Freshly Picked Maine Lobster, Mayo, Celery, Grilled Brioche, French Fries, Pickle 28


FRIED FISH SANDWICH
Local Cod, FireKing Bun, Tartar Sauce,
American Cheese, French Fries, Pickle 13
SPICY FISH TACOS
Fried Local Cod, Shredded Napa & Carrots, Pico de Gallo,
Chipotle Aioli, Warm Flour Tortillas, French Fries 16


BUILD YOUR OWN BURGER
Build the Burger of your Dreams! Starts with Patty of your choice, Fireking Bun, Choice of Cheese, Lettuce, Tomato, French Fries 12
Put your own creative twist by adding any of the following toppings
Choice of
Angus Beef, Turkey, or Beyond Meat Veggie Burger ®
PLEASE CHOOSE A SAUCE
Garlic Aïoli, Brown Sugar BBQ Sauce, Chipotle Aïoli, 1,000 Island, Buttermilk Ranch

Caramelized Onions, Fried Onion Strings, Pickled Red Onions, White Onions, Red Onions ADD 1
Sautéed Mushrooms, Sliced Jalapeño, Cole Slaw ADD 2
Applewood Bacon, Bacon & Onion Jam, Fresh Guacamole, Sliced Avocado, Fried Egg, Bacon-Cheddar Hash Brown ADD 2.50
(PRICE LISTED IS PER ITEM)

TURKEY BURGER
Swiss Cheese, Guacamole, Ranch Dressing, FireKing Bun,
French Fries, Pickle 13
BEYOND MEAT VEGGIE BURGER (R)
Plant Based Burger, Pickled Onions, Field Greens, Balsamic Drizzle,
Pepper Jack Cheese, Fireking Bun, French Fries, Pickle 14


GRILLED PESTO CHICKEN SANDWICH
Mozzarella, Tomato, Pesto Aioli,
Romano Focaccini Bun, French Fries, Pickle 14

SUMMER CHICKEN STACK
Grilled Chicken Salad, Applewood Bacon, Jalapeno Mayo, Shaved Lettuce,
Tomatoes, Multi Grain Bread, French Fries, Pickle 14
ROASTED TURKEY
House Roasted Turkey, Muenster Cheese, Avocado, Lettuce, Tomato, Applewood Bacon, Dijon Sauce, Multigrain Bread, French Fries, Pickle 14
BRISKET GRILLED CHEESE
Sliced Beef Brisket, Home Style Gravy, Cheddar,
Challah Bread, French Fries, Pickle 16


CHIPOTLE FRIED CHICKEN BLT
Applewood Bacon, Lettuce, Tomato, Chipotle Sauce,
Ciabatta Bread, French Fries, Pickle 14


CLASSIC GRILLED REUBEN
Shaved Corned Beef, Swiss, Sauerkraut, 1000 Island,
Marble Rye, French Fries, Pickle 12
TUNA MELT
All White Tuna, Cheddar, Tomato, Multi Grain Bread, French Fries, Pickle 12
CLAM ROLL
Whole Belly Clams, Lemon & Herb Aïoli, Grilled Brioche, French Fries, Pickle 21

ENTREES

SHRIMP SPAGHETTI
Fresh Made Spaghetti, Lemon Shrimp,
Roasted Tomatoes, Capers, Parsley, Scampi Sauce 24
SIRLOIN STEAK
12oz. Angus Strip, Spice Rub, Yukon Mashed Potatoes,
Broccoli, Garlic Butter 28
CHICKEN MARSALA
Chicken Breast, Roasted Mushrooms, Fresh Radiatore, Grilled Asparagus 23
BEYOND BOLOGNESE
Beyond Sausage, Aromatic Vegetable Stew, Fresh Rigatoni 22
BAKED MAC & CHEESE
Elbow Pasta, Cheese Sauce, Toasted Breadcrumbs 16
Add Buffalo or Grilled Chicken 6


PAN ROASTED SALMON
Green Beans, Cucumber & Tomato Salsa,
Steamed Basmati Rice 25


FISH N' CHIPS
Local Cod, French Fries, Cole Slaw, Tartar Sauce 20


BAKED COD
Basil Breadcrumbs, Green Beans,
Steamed Basmati Rice 22


HALF ROASTED CHICKEN DINNER
Mostly Boneless Natural Chicken, Garlic Jus,
Grilled Asparagus, Herb Roasted Potatoes 24


TERIYAKI STEAK TIPS
Vegetable Stir Fry, Steamed Basmati Rice 24
BROWN SUGAR BBQ STEAK TIPS
Yukon Mashed Potatoes,. Hand-Battered Onions Rings 24


AVAILABLE SIDES:
Sweet Potato French Fries 6
Asparagus 6
Yukon Mashed Potatoes 6
Garlic Roasted Potatoes 6
Small Caesar Salad 6
Small Mixed Greens Salad 6
Vegetable Stir Fry 6
Onion Rings 5
Steamed Basmati Rice 5
French Fries 5
Cole Slaw 5
Steamed Broccoli 5
Green Beans 5
SOMETHING SWEET
STRAWBERRY SHORTCAKE
Vanilla Ice Cream, Fresh Strawberries, Whipped Cream 9
S'MORES PARFAIT
Toasted Marshmallow Whipped Cream, Chocolate Mousse, Graham Cracker "Crispies" 9
SPICED CARROT CAKE
Layered with Whipped Cream Cheese Frosting,
Whipped Cream, Golden Pineapple Sauce 9

SALTED CARAMEL BROWNIE (Gluten Free)
Vanilla Ice Cream, Fresh Strawberries 9

OREO SUNDAE
Vanilla Ice Cream Crushed Oreos Hot Fudge Whipped Cream 6
ROOT BEER OR ORANGE SODA FLOAT
Soda Choice, Vanilla Ice Cream 8
*Before placing order, please inform your server if a person in your party has a food allergy.
*Cooked to order. Consumption of Under-cooked meats and fish may increase your risk of food-borne illness, especially if you have a medical condition